A separate username and password is required to log in to this library resource both on and off campus.
Please follow these steps to obtain the log in details:
1. Sign into OneSearch
2. Go to https://onesearch.cumbria.ac.uk/permalink/44UOC_INST/1mj6b9e/alma99260141102701 and select the link for "Username & Password for TeachMePhysio"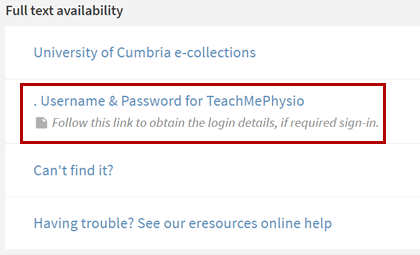 3. You may need to select Sign in on this page - this is your university email and password.

4. You will now be presented with a special username and password for TeachMePhysio
5. Go to TeachMePhysio web site and log in using this special username and password
Only 20 students can be logged into TeachMePhysio at any one time
- if you cannot access the site, please try again shortly
- if you have finished for the moment, please log out
Any problems please contact the library.