Access Education Source
Brief description Full text education journals, books & conference papers
Resource type Full-text journals
Access
If required, login using your university email address and password.
Full Details
Education Source contains full text to over 1,800 journals and over 550 books and monographs. It is the world's largest and most complete collection of full text educational journals, covering all levels of education, from early childhood to higher education.
Click on the image below to watch the Using Education Source video.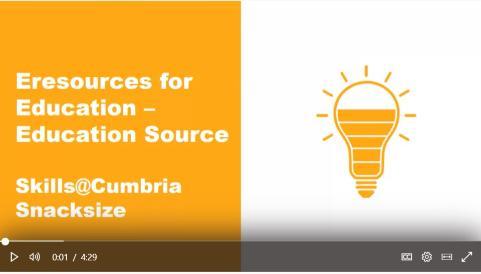 Date Range
Varies according to the journal - earliest title = 1929.
Size
Full text for 1,800+ titles.
Full text for 550+ books and monographs.
Features
Basic search to find a phrase or keyword.
Advanced search to combine searches using Boolean operators.
Visual searches produces a visual map of results organised by topic.
Search Tips
Searches can be refined to just full text articles, or by date, by publication, by publication type, or to articles which contain images.
Other information
Some journals have an embargo, so there may be a delay before recent issues are made available.