Library Opening Hours and Contacts
You are welcome to visit any of our campus libraries. Select the individual campus library to check opening hours, room bookings and locations or jump to the library contact details
Contact the library team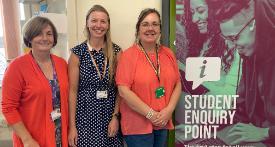 In person on campus
Our friendly staff are more than happy to welcome you, answer any queries you have and provide assistance during staffed hours. Visit the individual library pages above for opening hours and staffed hours.
Email: library@cumbria.ac.uk
Telephone: 01228 888888
Postal address:
Harold Bridges Library
University of Cumbria
Bowerham Road
Lancaster
LA1 3JD
Ask a Librarian provides an out-of-hours service for library queries.
Use the Student Enquiry Point for all Student Services questions, queries and support.
IT Queries
Contact the IT Service Desk for IT queries including passwords, logins and access to university systems.
Web: It Service Desk
Email: itservicedesk@cumbria.ac.uk
Phone: 01228 888888
Programme Administration
Contact the Programme Administration Team (PAd) for your campus with any course queries including progress, attendance, sickness and assessments.
Web: Programme Administration contacts