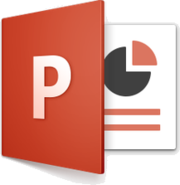 You can complete one of the certificated Linkedin Learning video-based courses on Micorosoft PowerPoint (Office 365), dip into the individual text-based tutorials from GCFGlobal, use the F1 key on your keyboard to bring up help whilst using Word or visit Microsoft for additional support and tutorials.
Also see Presentations | Audio Presentations (inc. Narrated PowerPoints)
Don't forget that students and staff at the University of Cumbria can install the full Professional version of Microsoft Office 365 on up to five personally owned devices. See Free Office for more information.
Linkedin Learning
GCF Global Tutorials
Getting Started With PowerPoint
Working with objects and media
Working with themes and designs
PowerPoint Help and Learning (Microsoft.com)