Using a snipping tool can make a big difference when trying to insert an image into an assignment and if captured from the web allows you to remove all of the clutter on the page and just concentrate on the information you want to display. As you can see, one of the examples below is much clearer than the other:
Full page screenshot using the Print Screen option on your device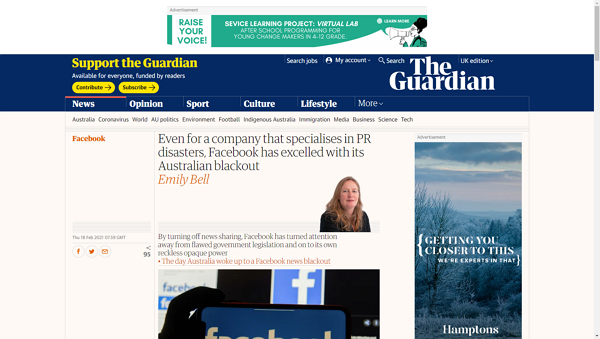 Partial capture of a page using a snipping tool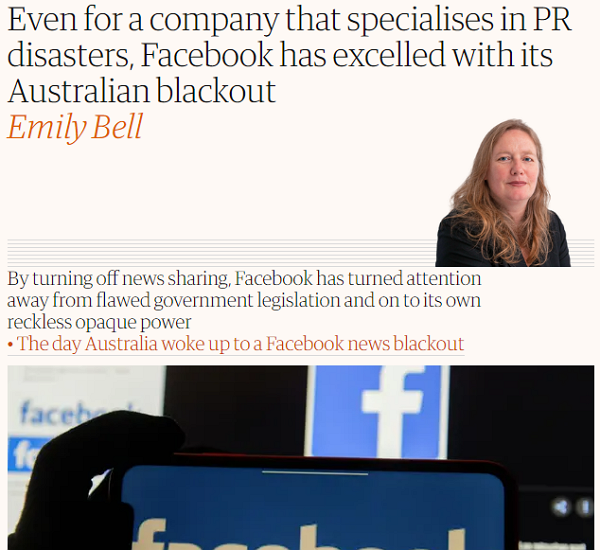 Referencing
Just because you are capturing part of a page or another resource as an image, does not mean you can skip referencing. You must reference the original source of the information. See Referencing, Turnitin and Plagiarism for more information.
Bell, E. (2021) Even for a company that specialises in PR disasters, Facebook has excelled with its Australian blackout. Available at: https://www.theguardian.com/technology/2021/feb/18/even-for-a-company-that-specialises-in-pr-disasters-facebook-has-excelled-with-its-australian-blackout (Accessed: 18 February 2021).