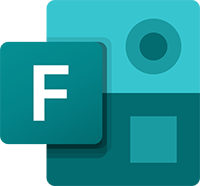 Microsoft Forms is available to all students and staff as part of your Office 365 Education accounts at the University of Cumbria.
With Forms you can easily create surveys for any research project that requires responses from other people. Data collected via Forms can be visualised for inclusion in assignments and exported to Excel for analysis. Forms can also be used to create quizzes.
Don't forget that students and staff at the University of Cumbria can install the full Professional version of Microsoft Office 365 on up to five personally owned devices. See Free Office for more information.
Access Microsoft Forms
Microsoft Forms is only available online and can be accessed via Office 365 products (OneDrive, Outlook, Word, etc.) online or a direct link.
Forms in Office 365
By opening Forms via your university Office 365 account, you can be certain that you are using the correct account and that all responses and data will be collected into your university account.
With any Office 365 product open on the web (OneDrive, Word, Outlook email, etc.), you can click on the 9-dots menu (top left) to reveal the Microsoft Apps available to you: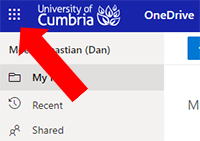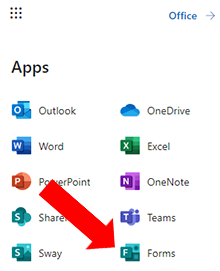 Click on Forms and follow the instructions in the video below.
Forms direct link
You can also access Microsoft Forms directly at https://forms.microsoft.com/ but you will need to login using your University of Cumbria email address and network password.
Make and share your first Microsoft Form
The following video walks you through the simple process of creating your first Form, looking at the survey results, exporting to Excel and sharing the Form with others.
Further help and guidance - Linkedin Learning
Completion of the following course at Linkedin Learning will not only help you to become proficient in your use of Microsoft Forms, but will also give you a certificate on completion.