Download an image
You can right-click on almost any image on the internet and select to save that image onto your own computer.
Right-click on an image and select "Save image as..."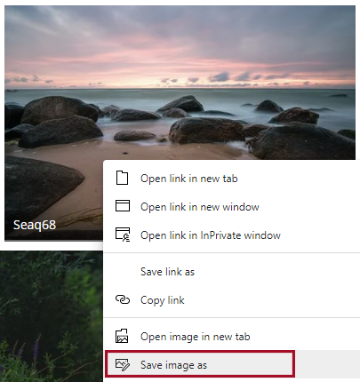 This should allow you to choose a name for the image and the location where you would like it saved.
The image has saved as .webp or .html
This web page has restricted access to its images and does not want you to download them because of copyright or other corporate reasons.
If you still want to use a particular image, you could use the Windows Snipping Tool (Mac users need to press ⇧⌘5 to open up the snipping options) to copy the part of your screen that is the image.
Copyright
Please be aware of the copyright and intellectual property issues around using an image that is owned by someone else. Never post an image, that you do not own, onto the internet without permission.
Freely available images
There are some links to freely available images on the Copyright page (above), but you might also try Pexels.com and Pixabay.com which allow free download and use of a wide range of images.