Where will I find Collaborate on my Blackboard site?
Most Blackboard sites have a dedicated menu link that will take you to the Collaborate area of the site:
You can also get to the Collaborate area of the site via the 'Tools' menu link:
If you do not see a link to Collaborate on your Blackboard site, please contact your tutor.
Some sites may be using Blackboard Groups. Each group can also contain a Collaborate Room as a Group Tool. Your tutor will advise you if you are using the Group functionality.
Accessing a Collaborate Room
When you arrive at the Collaborate area of your Blackboard site, you should see a 'Course Room', and potentially one or more sessions.
Click on the room or session name and an information panel will appear on the right. If the room is unlocked, or the session has started, you can click the 'join' link to access the room.
Sessions are shown in date order, with the next session at the top of the list.
Once a session has passed it's removed from the 'upcoming sessions' page.
You cannot access previous sessions, but you can see details of them from the 'filter by' selector to the right of the Collaborate Ultra page.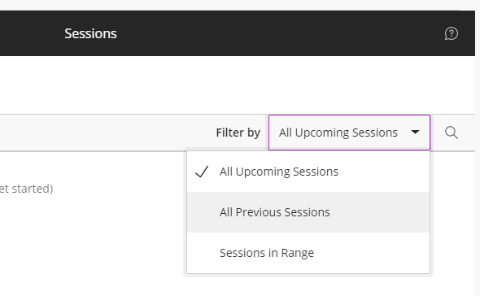 Help and support
You can access online help from the icon at the right of the 'sessions' bar:

Or view the Guidance and Support section on this page.