What is a report?
A well structured document providing information in a clear and logical order responding to a specific brief.
Why a report?
Many professions use reports as a key communication tool to provide information, outline strategy, report and discuss results of investigations, establish procedures and so on. Good report writing is a key employability skill, one that takes time to develop in order to produce a good standard of publication that will be well received. Many courses at university give you the opportunity to develop these skills for a variety of assignments.
How do reports differ from essays?
Reports are different as they:
Can use headings and subheadings and sections to efficiently layout the information requested
Are structured by the writer according to the needs of the brief and the findings
Usually include a table of contents to make finding information easy
Can include a summary at the beginning to highlight key messages
Can make use of colour, images, charts and tables to help illustrate the contents.
How are they similar to essays?
For university assignments especially, reports still need to be written following these academic writing conventions:
Concise formal writing and terminology relevant to your subject area
Ideas are supported by good quality academic and/or professional literature
Carefully edited and proofread to ensure good spelling, punctuation and grammar are used
Clearly answers the brief or learning outcomes
Types of reports
In your subject area you could be asked to write a report for a number of reasons including:
Case study
Business plan for an innovation
Strategic thinking
Procedure or incident
Project plan and delivery
Information and advice to decision makers
Results and recommendations from a field study or environmental survey
Record of laboratory work
Personal development or reflection on practice or placement
The structure or format of each is determined by your assignment brief. It is important to:
Carefully read the assignment brief and learning outcomes. Clarify anything you are not sure about.
Check if your tutor wants you to follow a specific layout or if you are expected to work out the best layout for yourself.
Carefully plan within the word count. Also check if all of your report will be part of the word count.
Be aware of the deadline so you can produce a professional publication on time.
If you are simulating a work situation or working with other organisations, you would also need to ensure you:
Check you understand who your audience is and why they have requested the report
Establish what they already know
Find out how they plan to use the information
Some other academic assignments can be similar to reports but tend to follow their own specific guidelines, for example, see our pages on dissertations/theses, research proposals, reflections on practice, literature reviews.
Structure and formatting of reports
There are quite a few formatting and style issues to consider when producing good reports. See the table for more information and for an example go to our Sample Report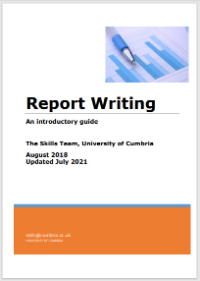 Format

What to consider

Sections of a report

What sections you choose to use should be governed by the report brief and your findings

Table of Contents

Correctly laid out to reflect these sections

Accurate page numbers

Numbered sections

Each main section has a number eg 1, 2, 3

Subsections or Paragraphs

Can be numbered eg

1.1, 1.2, 1.3 or bullet points

Highlighting text to indicate key information

You can highlight key information using different fonts and in different colours.

You could also put some text into separate box with or without coloured background.

You may need to split the area into columns or insert a table to be able to achieve this.

Charts, figures, tables, illustrations

Are used for a reason and the reason is clear
Either created by the author or are from published sources.
Need to ensure you indicate either way

Published sources are referenced correctly - see Cite them Right for formats

Referencing literature

Tutors will expect you to use suitable literature to underpin your thinking. This is more so than on examples of reports you find freely on the Internet.

Reports need to be correctly referenced as in any other assignment. See the guidance on our referencing page
Literature sources for reports
Information and ideas included in reports for university assignments will need supporting by good quality sources. These can be:
Further information and support
To find out more about reports and report writing take a look at the suggested books on this OneList reading list. These include both general books on report writing and also subject specific ones too.
Clarify with your tutor if you are in doubt about your assignment.
Contact the Skills@Cumbria team or book a one to one appointment.