Top Tips to Manage Your Time
It is important to learn how to use your time effectively. Good time management isn't just about being able to draw up a study timetable or work schedule which fits around lectures and your social life.

You need to think about a whole range of things – so where should you start? Take a look at the following list:

• need to get your time under control right now?
Try The 5 Step Plan

• want to plan your time more effectively?
Go to Planning Timetables and Schedules

• can't find what you want when you want it?
See our advice on getting organised

• need to work more effectively?
Have a look at making more hours in the day

• find it impossible to get started, or keep going?
See overcoming procrastination

• difficult to stay focused?
Go to dealing with distractions


However great your ideas, and however hard you work, if you can't make the time to complete or communicate things properly, you won't get the marks you deserve. So managing your time effectively is key to success at university.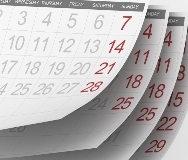 The bad news is that no-one is born with great time management skills. The good news - that means anyone can learn them!
Taken from LearnHigher: www.learnhigher.ac.uk
Other websites which may be useful
The Student Room - apps to help you to organise your studying at university