Josh received an email from Paypal saying that, due to a security problem, he needed to urgently login to update his address and debit card details or his account would be locked.
Josh clicked on the provided link and was taken to the Paypal login page: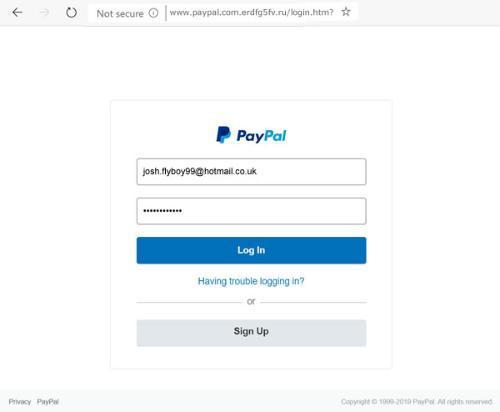 He logged in, entered his full home address and re-entered his debit card details including the expiry date and the 3 digit CVV number from the back of the card. When he clicked the Submit button, he was taken back to the Paypal login page:
Phishing
Josh has just been the victim of a phishing attack. Look at the URL of the first login page he was taken to from the email message:
www.paypal.com.erdfg5fv.ru/login.htm?
The actual web address that Josh has been sent to is erdfg5fv.ru. It also shows as being an insecure site (to the left of the address bar). Josh has given this fake site his Paypal username, Paypal password, home address, debit card number, expiry date and CVV number.
After giving away all of these details to cyber criminals, he has then been redirected to the genuine Paypal login page.
Reduce your risk:
Phishing emails will often include spelling or grammatical errors. Genuine organisations do make mistakes sometimes, but a badly written email is unlikely to be genuine.
Most organisations will send emails from their own company domain. itservices@cumbria.ac.uk is good. uoclibraries@example.com is bad.
Paypal and your bank will normally include some identifying information in emails, such as the last four digits of your debit or credit card number. If this information is missing you should be suspicious.
Never click on links to banking or shopping sites unless you are absolutely sure they are genuine. If you do click on the link - carefully check the URL to see if you are on the genuine site. It is always safer to manually type in the address of the site or service - it only takes a moment to type www.paypal.com and can save you all of the time it takes to deal with a stolen account and/or stolen money.
Install the official app (if on a mobile device), a genuine link will always open the app for you - a fake link will open a fake web page.