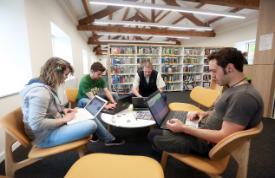 Ambleside has a fantastic, flexible learning space based in the Barn Library with additional study space in the nearby Charlotte Mason Building. The Barn Library provides learning spaces, social and flexible areas, and learning resources/library services for, in particular, outdoor studies, forestry, conservation, geography, tourism and romanticism. There is also networked and wireless internet connection, laptop loans, and a range of spaces available for studying, meeting and research as well as a café offering hot and cold snacks.
We want our library spaces to feel inclusive, welcoming and considerate of all members of our university community. To this end, we ask our users to check out this page of ways you can help us achieve this: Library Etiquette
Opening Hours
9 January - 26 March 2023
Monday - Friday

8.30am - 5.00pm staffed

swipe access 5.00pm - 6.00am

Saturday and Sunday
swipe access 9.00am - 6.00am
Explore Ambleside Campus
The Ambleside campus is situated on a steep incline. If you have a disability or mobility concern, please contact Reception ahead of your visit for more information and assistance to maximise your experience. Local taxi firms are available with contact details on the internet or can be supplied if required.

Telephone 015394 30274
Library Location
The Barn
University of Cumbria
Rydal Road
Ambleside
Cumbria LA22 9BB
Explore our library collections
Study Spaces
The library in the Barn has a range of study spaces including a bookable area.
On the first floor of the Charlotte Mason building you will find a communal IT space and bookable study rooms. These are available to students, Monday - Friday from 8.30am-5pm, and with swipe card access from 5pm - 4am daily.
Study rooms can be booked online here: Book a study space
Support
The University Support Services in the Barn act as an information point for the University campus. Staff at the library desk are ready to welcome you and to answer your queries.
If you need any information or have any questions please visit the Student Enquiry Point.
If you are studying in the evening or at the weekend and have a query please use the Ask a Librarian service.
Borrowing and Returning Books
Find out how to borrow, renew and return books whilst you are a member of our libraries. If you have library books out they will auto renew until the end of your course unless they are requested by someone else. We will send you an email letting you know which book needs to be returned so please check your student email regularly.
Using the library as a visitor
If you would like to visit or join our library as an external borrower find out more on our joining the library page.