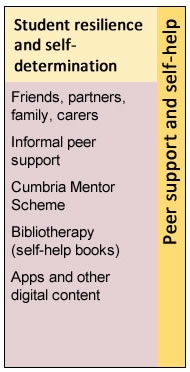 Peer support and self-help
At various points throughout the lifespan, everyone will experience stresses and low mood as a reaction to various events that we face. Most of the time, when we face stress and distress, it will be a short episode, and we move on.
Friends, partners, family, and carers can be a useful way to overcome many of life's problems, ("problem shared, is a problem halved").
Informal peer support is a great way to support each other. Your fellow students are going through most of the same things as you and understand your situation.
Peer Mentors can offer support with various aspects of your University experience from making friends and settling in, to helping you understand the expectations of academic study and dealing with assessment worries. Cumbria Mentor Scheme
Self-help is useful for lots of conditions and feelings. We have put together the following list of resources to help you support yourself. Self-help reading list
Many people find mobile apps useful in managing their physical and mental wellbeing. You can search your device's app store for apps that encourage and support things like mindfulness, fitness, mood diaries and more. Choose apps that have a good rating from users and also have a large number of users.
We also have a long list of websites and contacts that provide information and support for a wide range of conditions and situations. Useful sites and links