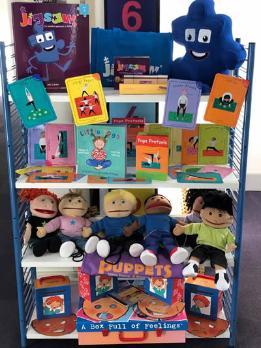 The library has a range of resources and equipment for you to use in the classroom. These are all part of the Teaching Practice Collection and are arranged on the shelf according to the Dewey classmark (numerically 0 - 999). You are able to borrow up to 30 items from this collection, on top of your Lending Collection allocation.
Items include a range of kits, books and big books. The kits are a selection of objects that you might use to base a lesson upon; our story sacks and religious artefacts are very popular. We also have equipment for maths lessons, literacy activities, historical objects and much more.
Alternatively, you might wish to use the collection when working on assignments to create your own resource. Here we have collected together some examples of resources for different themes.
Conflict and War
Musical Instruments
Story Sacks
To explore the Teaching Practice Collection, run an OneSearch Books+ search. You can tweak your results using the facets on the right hand side of the screen; Teaching Practice should appear towards the bottom of your list of options. We would also recommend browsing the shelves; this is a good way to explore the collection.
The Teaching Practice collections are located at:
Carlisle - Fusehill Street: turn right when you enter the library
Lancaster: on the first floor in Zone three
London students have access to the Tower Hamlets Schools Library Service at 229, Bethnal Green Road E2 6AB. It is open 10 – 6 Monday to Thursday and 10 – 4 on Friday. Please remember to take your Cumbria Card with you.
Check the Tower Hamlets Schools Library Service website for holiday opening times and for more information.
Espresso Education in the classroom
To support your placements, the library also provides you with access to the online Espresso Education resource. Discovery Education Espresso is a video-rich, cross-curricular service that has won multiple awards. Suitable for F-Y6 pupils, Espresso can make every lesson memorable and save you time.
Use Espresso for all year groups and subjects, plus whole-school initiatives such as Healthy Schools. It also offers a multitude of resource types to suit all kinds of learning. Discovery Education Espresso includes SATs-related resources.
A username and password is required to access this database both on and off campus, please contact the library for details.
School Library Services
When on your placement you may find that your host school uses the Schools Library Service for your area. The Schools Library Service offer a wonderful range of books for identified curriculum themes. In addition, they may lend packs of books for school reading clubs. You may encounter the following library services on placement:
Library Service for Schools in Cumbria
Lancashire School Library Service
Tower Hamlets Schools Library Service