If you are registered on a course with the University of Cumbria, you will be automatically registered with the library.
Your library card is your Cumbria Card. You will be given your card at the start of your course.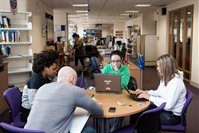 Having your Cumbria card with you makes it quicker to use the self-service kiosks when you are borrowing items from the library. You can return items without your card.
Students studying by distance learning should contact the library at their campus to request their Cumbria Card.
Students based in London will have their card issued at the London site.
Please familiarise yourself with the Cumbria Card terms and conditions.