University Centre at Furness College
The University Centre at Furness College provides state of the art facilities for all university students in the Furness area. As well as teaching space the centre provides flexible study space, computing facilities and a core collection of library books.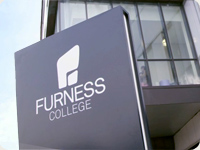 Contact details
University of Cumbria
University Centre at Furness College
Channelside
Barrow-in-Furness
Cumbria LA14 2PJ
The University of Cumbria is located on the top floor of the University Centre at Furness College building.

Course enquiries: 0845 606 1144
Site reception: 01229 825017
Email: learningresources@furness.ac.uk

Directions and map
Opening hours
See the Furness College website for term dates and opening hours.
How do I get access to the University Centre?
You will need a University Centre at Furness College card for identification on campus and to access the library and computing facilities. Ask at the Furness Centre library desk – you will need your Cumbria card and to fill in the application form.
Getting your University of Cumbria library card
As part of the registration process you will have been asked to upload a photograph. If you have done that your card should be ready for you to collect at your induction day. If you didn't upload a photograph, your photo should be taken as part of your induction day or alternatively you may need to send a digital photograph to library@cumbria.ac.uk. Your card will then be processed and sent to the University administrator at Furness College for you to collect at a later date.
Download the Furness College leaflet for more information on the services available.
You can now request books to be sent to Furness College for collection. This works slightly differently from other sites because Furness College do not have the same library management system as UoC.

We will issue requested books to your account and then send them to Furness College so you will need to make sure you have room on your account for the books to be issued and that you have no outstanding fines blocking your account.

You can also return books via Furness College, but again they will not be removed from your account until they arrive back at a UoC library so make sure they are still in date.